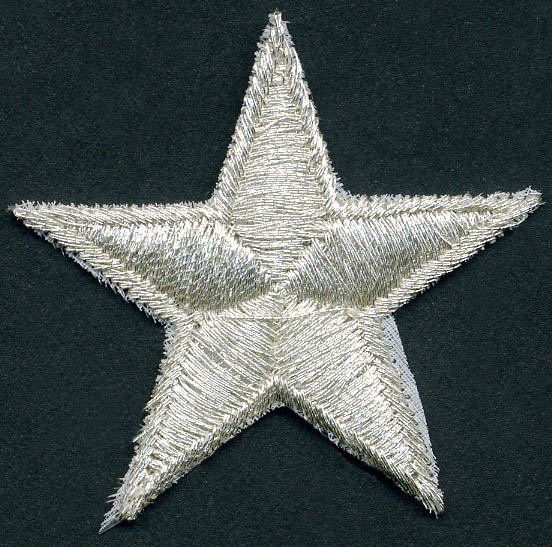 Sku :
AEM-511050HS-45-915
45mm Metallic Star Patch With Heat Seal-Silver
Applique
Oh my stars! It's the perfect decorative addition to any wearable garment or craft project.

They come in a variety of sizes and styles and are great for towels, blankets, pillows, purses, scrapbooks, backpacks, aprons, jackets, pants, t-shirts, costumes, baby clothes and so much more!

Not all star patches are shown on our web site. If you don't see what you're looking for, please send us a quick Email to: rfq@kagantrim.com
We stock a wide variety of patch appliques in many different styles, sizes and colors. Not all designs are shown on our web site. If you don't see the applique you desire please Email rfq@kagantrim.com with the following information:

1. The SKU number of the flower patch applique desired.

2. Any image or drawing you may have, to give us an idea of your fashion direction.

3. Your intended usage, such as dresses, swimwear, activewear, denim, etc.

4. The approximate sample and production quantities needed.

5. Any critical fabrication specs, such as washability, colorfastness, shrinkage, lead-free, etc.

6. How soon the quantities will be needed and your production shipping location, for example USA, Asia, South America, etc.
1. Please inquire about available samples.
1. Minimum purchase varies, please inquire.

2. Stock items ship same day.