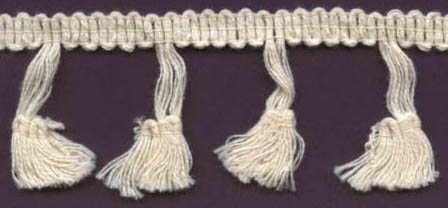 2" Cotton Tassel Fringe-Natural (Not Dyeable)
Click Add To Cart to Purchase or Add to Quote For More Information
Price:
$0.40
per yard-min purchase 36 yards
Put Up Per Purchase
36 Yards
1. $0.40 per yard, minimum order 36 yards.

2. To Purchase:

3. Click on Add To Cart.

4. Enter increments of 36 in the Qty field.

5. When finished shopping click VIEW CART at upper right, then click CHECKOUT.

6. We will contact you regarding shipping.

7. Most orders ship same day.

8. While supplies last.
We stock and manufacture a wide variety of fringes. Not all fringes are shown on our web site.
If you don't see the style you desire and would like a quote, please Email the following to
info@kagantrim.com
:
1. Any image or drawing you may have, to give us an idea of your fashion direction.
2. The approximate sample and production quantities needed.
3. Any critical fabrication specs, such as washability, colorfastness, shrinkage, lead-free, etc.
4. How soon the quantities will be needed.
5. Your production shipping location, for example USA, Asia, South America, etc.
6. Our expert Sales Department will promptly send you a custom quote, designed to meet your needs.
1. Stock items ship same or next day.