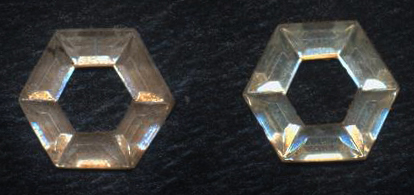 1/2" Hexagon Rhinestone-Crystal
Click Add To Quote, then View Quote / Submit for a Price Quote
O-rings are stainless metal, nylon coated, or plastic fastener hardware shaped like the letter "O." They function as fasteners on swimsuits, lanyard and leather hoop belts, sandals, camera bags, horse bridals, camping gear, hiking equipment, and various other everyday applications. They are commonly used in swimwear, on harness belts, jewelry or bags. They come in many different sizes and in plastic colors: clear, black, and white. In metal finishes, colors include: gold, nickel, rose gold, black (nylon coated), and white (nylon coated). They are durable, waterproof, rust-proof, salt water and chlorine resistant. For a quick response, please Email rfq@kagantrim.com the following:

1. The SKU number of the O-ring you require or an image if available.

2. Your intended usage, such as dresses, swimwear, lingerie, etc.

3. Your prefered material content (plastic, metal, alloy, nylon coated).

4. The color and finish desired.

5. The inside diameter needed.

6. Any critical fabrication specs, such as washability, colorfastness, lead-free, etc.

7. The approximate sample and production quantities needed.

8. How soon the quantities will be needed.

9. Your production shipping location, for example USA, Asia, South America, etc.
1. Please inquire about available samples.
1. Minimum purchase varies, please inquire.

2. Stock items ship same day.