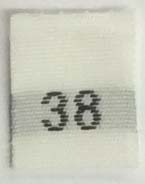 #38 1/2" Wide X 3/4" Tall Woven Size Tab-White Background with Black Print
Click Add To Quote, then View Quote / Submit for a Price Quote
Our woven size tabs are in stock and ready for immediate shipping. For a quick price quote, please send an Email to labels@kagantrim.com with the following information:

1. The SKU number of the woven size tab desired.

2. An image of the woven size tab you desire if you don't see it on our web site.

3. Be sure to include width, color, size number and any other specs needed.

4. The quantity needed, in increments of 1,000 pieces.

5. Your production shipping location, for example USA, Asia, South America, etc.
1. Please inquire about available samples.
1. Minimum purchase is one bundle containing 1,000 pieces.

2. Stock items ship same day.